Xur is back and he brought some decent stuff with him but no gun, I guess weapons are every other week now. On with the show….
*Note: The images are just for visual reference and may not represent the correct abilities, level, etc.*
Titan: Gauntlets: Immolation Fist w/ 32 intellect 27 strength roll:
The new gauntlets for the titan are also the only exotic that are sunbreaker based for now. It gives the explosive pyre perk from the skill tree for free which isn't too bad. Your choices from there are intellect or strength, then increased melee speed or extra grenade energy on melee hits, and finally hand cannon or shotgun loader. Not the best titan exotic but still good.
Hunter: Helmet: Celestial Nighthawk w/ 35 intellect 36 strength roll:
The nighthawk is back and if your fighting Oryx with an under leveled crew or if your team suffers a few deaths it can be great for stunning him before he claps. Its main perk is to put all your golden gun shots into one but with 6x damage (like I said great for stunning Oryx). Then you have your choice between more intellect or strength, next it's a choice between more super energy with grenade kills or more super with special weapon kills on minions. Finally we have gain grenade energy on orb pick up. Definitely get this, it also may be invaluable on the hard raid when it comes out.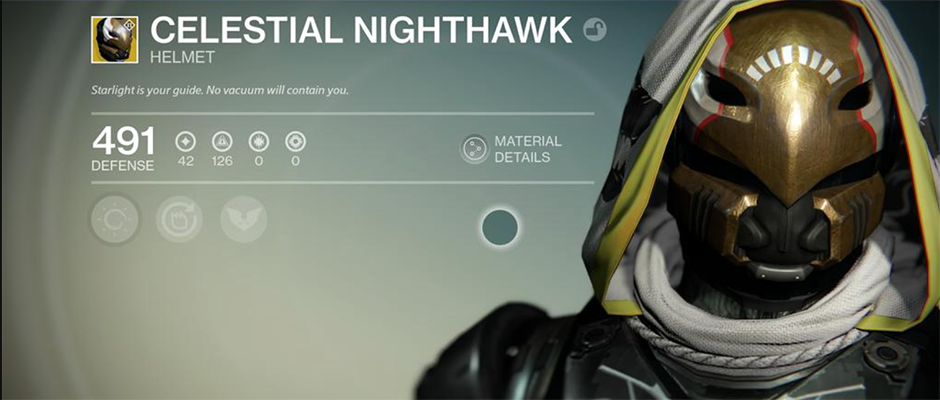 Warlock: Chest Armor: Heart of Praxic Fire w/ 43 intellect 45 discipline roll:
Always a great exotic for a sunsinger warlock. Its main perk is when active all your powers charge super-fast and you get increased agility. Then is the choice of intellect or discipline, then extra scout or shotgun ammo, and finally void burn defense or solar armor. I always found this exotic really good in trials which is returning soon, so get it for sure.
Engram: Helmet

Legacy Engram: Heavy Weapon